WOW! Our humble beginnings! This is how we started! Keep reading to see where we are now!
Lonny C's is growing - watch for new developments!
Lonny C's Donuts is a family owned and operated business. We are located on Higway 19 (Simplot Blvd) west of Caldwell. We specialize in a variety of delicious cake donuts and offer free delivery service from East Boise to the Oregon border.

Hello, I am Lonny, The Donut Man! Welcome to Lonny C's Donuts! Many people ask me why I started making donuts. Growing up as a kid, my family would often visit Pike's Place Market in Seattle, Washington. I was enthralled by the doughnut machine there and would spend all of my time watching the doughnut process from start to finish. I said to myself, "Someday I am going to have a doughnut machine like that and make doughnuts." To make a long story short, I found a Belshaw doughnut machine at a used restaurant equipment store and bought it for $500. We used it in our restaurant in Kansas for a few years. When we moved to Idaho, it sat on the shelf for several years. One morning I woke up and said to Brenda (my wife), I think I am going to start making doughnuts!" A few weeks later I was selling fresh homemade doughnuts from my van parked in front of my house!
It's been, and is, a family affair. All of my boys have helped with construction, production and sales, and technical development. We appreciate their support through this crazy adventure! My mom and dad help out every week with deliveries and shed sales. (pic coming soon). We also want to thank the many community people who have helped in various ways throughout this adventure - Together we are TeamDonuts!!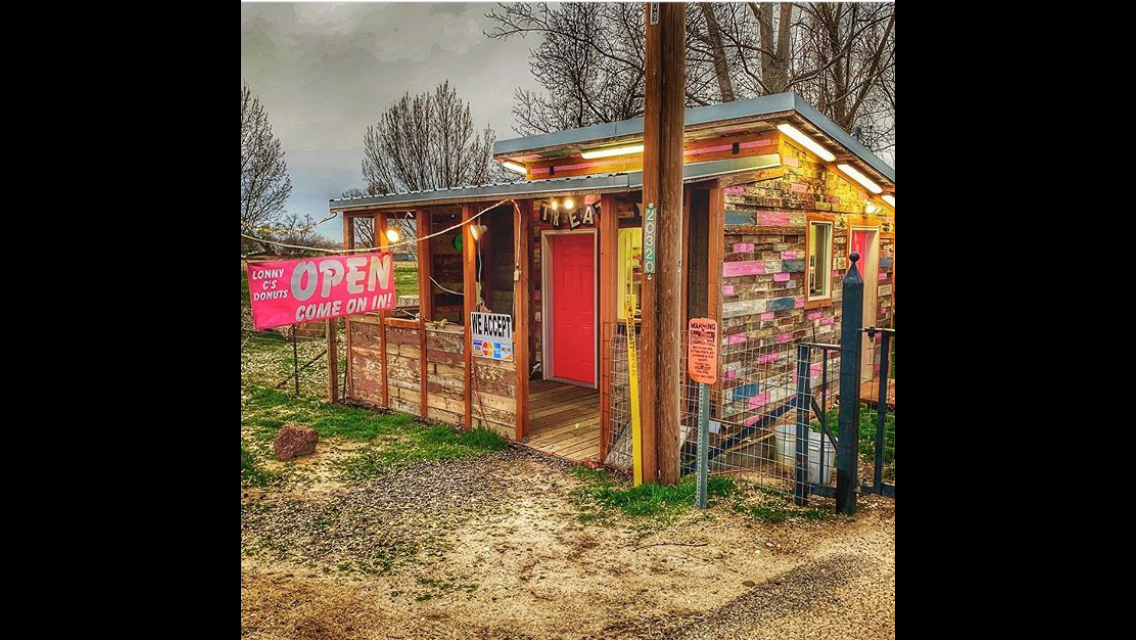 We've come a long way, Baby!
From cardboard signs, blow up donuts and umbrella coverings, to our present Home Base Donut Shed! We have come a long way, Baby! BUT….. we are not done yet - keep watching for more developments! We have some more cool stuff up our sleeves and are excited to share the next step of our adventure with you!